Washington State Reckless Driving Charges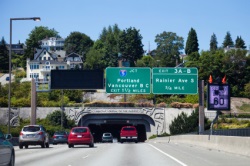 In Washington State, a person is guilty of Reckless Driving if that person "drives any vehicle in willful or wanton disregard for the safety of persons or property." The charge is considered to be a criminal traffic offense.
Reckless Driving is a gross misdemeanor and if convicted, there is a maximum sentence of 364 days in jail and a $5000 fine. There is not a mandatory minimum jail sentence.
A conviction will also result in a driver's license suspension for 30 days through the WA State Department of Licensing. Additionally, SR-22 insurance may be required.
Common Questions
---
Am I going to go to jail?
Reckless Driving has a possible jail sentence of 364 days, depending on the facts of the case, your criminal history, your driving record, and the quality of your legal representation. However, it is not common for maximum jail sentences to be enforced for this charge.
What is going to happen to my license?
After the Department of Licensing receives notice that you have been convicted of Reckless Driving, you will receive a letter that your driver's license will be suspended for 30 days. Usually this process takes about 45 days, so your license will not be suspended immediately after the conviction.
What if I need to drive for my job or to get to school?
You can apply for an Occupational/Restricted License through the Department of Licensing. The Occupational/Restricted License can be used to drive to and from work, school, court-ordered community service, continuing healthcare, substance abuse treatment/AA meetings, or continuing care of a dependent.
Who is eligible for the Occupational/Restricted License?
You are eligible to apply for the Occupational/Restricted License if you have a Washington State driver's license OR are stationed in WA State on active military duty.
What if I drive a commercial vehicle?
If you have a Commercial Driver's License (CDL), you are not eligible to get an Occupational/Restricted License to drive a commercial vehicle. However, you are eligible to apply for the license to drive a non-commercial vehicle.
How do I apply for the Occupational/Restricted License?
Complete a Restricted Driver License Application through the Washington Department of Licensing and obtain proof of financial responsibility (i.e., SR-22 insurance). Submit your application, proof of SR-22 insurance, and the fee ($100 at the time of this article) to the WA Department of Licensing. Once you qualify, the license will be sent to you.
Once the suspension is over, how do I get my license back?
In order to reinstate your driver's license, you must file proof of financial responsibility (i.e. SR-22 insurance) with the Department of Licensing for 3 years and pay a re-issuance fee.
Do I need to hire a lawyer?
If you have been charged with Reckless Driving, it is in your best interest to hire an attorney who is experienced with criminal traffic offenses. Quality representation can minimize or eliminate the criminal and licensing consequences.
At Beckwith DUI Law, we fight all criminal traffic offenses, including Reckless Driving, DUI, and Negligent Driving. We have offices in Seattle and Tacoma and our experience extends to all courtrooms in King County, Pierce County, and Thurston County, Washington.